Ultimate storm-proofing for wet winter weather in the city and beyond. The Vostok is a smart four-pocket parka made with a 100% recycled polyester Italian shell fabric that is seam-sealed and fully waterproof to 20,000 h/h. Warmth comes from PrimaloftⓇ Gold thermal insulation, the best in synthetic insulation technology, resulting in a warm, windproof & breathable mid-length parka. The Vostok is part of Shackleton's new Adaptive Layering system, so it can be easily combined with a down gilet or jacket to provide an even wider range of comfort and warmth in extreme conditions.
Read More
Key Specifications:
100% recycled, polyester twill weave Italian fabric
Waterproof to 20,000 h/h
Fully windproof and breathable
Insulated with PrimaloftⓇ Gold insulation
Adaptive Layering system compatible
Laser cut and fully seam sealed throughout
Snorkel hood with reinforced visor
Microfleece lined collar
Description:
Ultimate storm-proofing for wet winter weather in the city and beyond, the Vostok Storm Parka is designed to render you invincible in the teeth of the the strongest gale and heaviest downpour.
This is a smart four-pocket parka that offers ultimate waterproofing functionality and features, combined with a light layer of insulation creating a feeling of protection and comfort in a truly distinctive city-ready package.

Zip in a gilet or jacket from the Adaptive Layering System to extend the thermal rating down to minus 10.
A seam sealed, 100% recycled polyester Italian shell fabric is combined with PrimaloftⓇ Gold insulation, the best in synthetic insulation technology resulting in a warm, fully waterproof, windproof & breathable mid-length parka, meaning that you won't overheat in a jacket that you can wear from mid Autumn through to late Spring. 
YKK Vislon zippers, Merino storm cuffs, plenty of pockets, pit zips and a fully adjustable snorkel hood with reinforced visor round off a highly versatile performance parka.
WARMTH
Expedition-grade weather protection graded to -5°C. Adaptive Layering compatibility allows for the addition of a down mid-layer which adds more insulation when needed in colder conditions.
WATERPROOF
20,000 mm hydrostatic head with a C-zero durable water repellent finish. Fully seam sealed.
WINDPROOF
Windproof to 0.2 CFM, the hardshell fabric and full seam sealing means that this jacket will protect you from the harshest wind speeds.
PRIMALOFT INSULATION
Insulated with 100% recycled PET PrimaloftⓇ Gold, designed to provide efficient and effective insulation coupled with extreme breathability, to cater specifically for an active lifestyle.
100% RECYCLED
Made with a 100% recycled polyester twill weave waterproof fabric, developed exclusively in Italy by Majocchi for Shackleton.
BREATHABILITY
Fabric membrane has highest breathability rating of 20,000 g/m2/24hr, allowing sweat and moisture to be transported away from the body and out from the parka.
ADAPTIVE LAYERING COMPATIBLE
This parka is Adaptive Layering compatible, allowing for the incorporation of a
Ross
, Ronne
or
Rothera
down mid-layer, enabling you to boost the Vostok's thermal range.
Attention to Detail: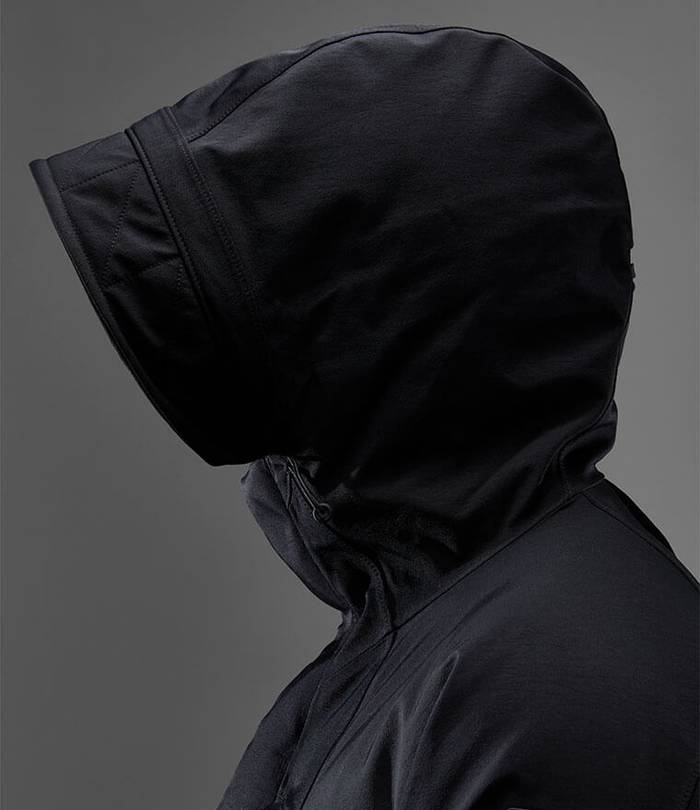 Hood Visor
Hood has been designed with a visor reinforced with wire so that it can be closely shaped around the face to protect from extreme wind and snowfall.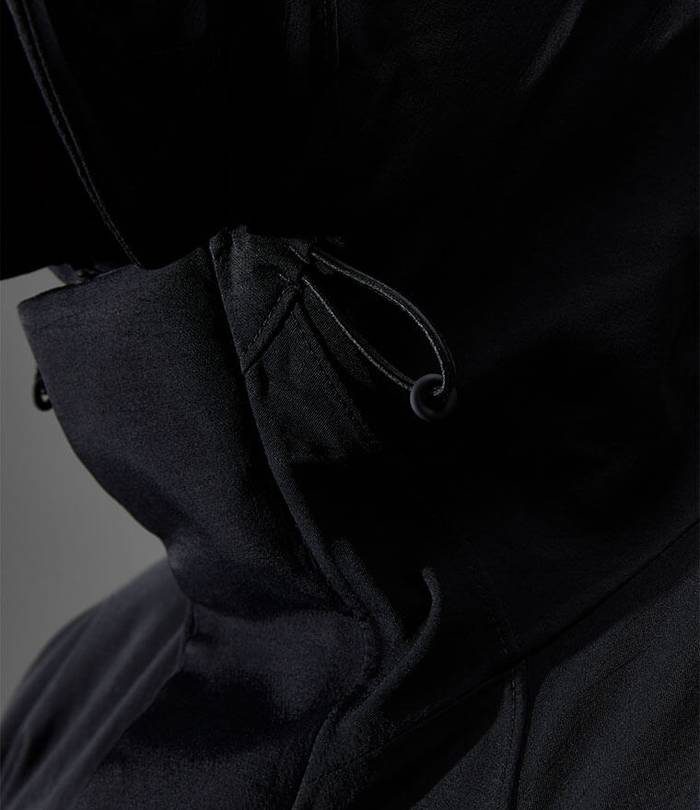 Three Way Adjustable Hood
Hood is fully adjustable and the front and centre back with bungee cord and toggles.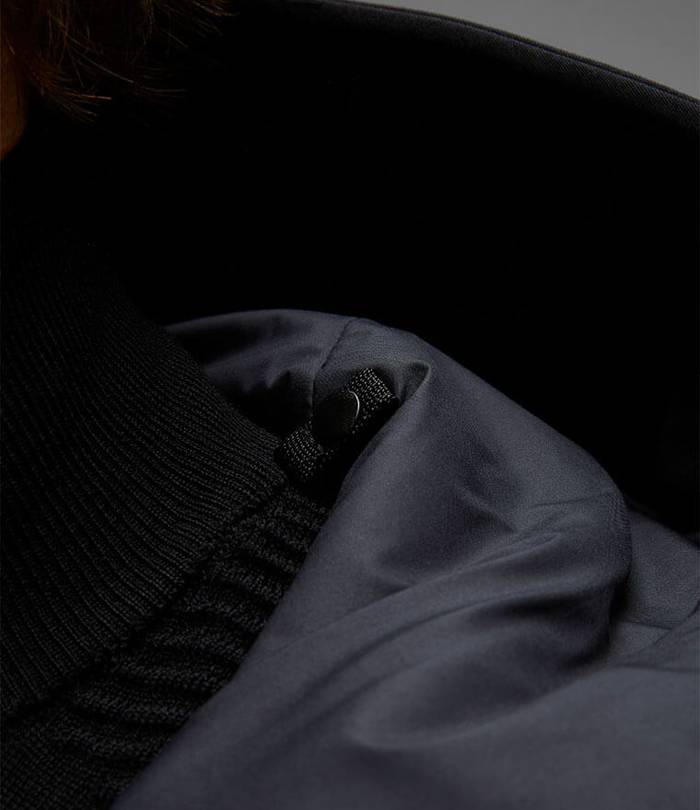 Microfleece Lined Collar
Collar is lined in micro fleece for comfort against the face and chin.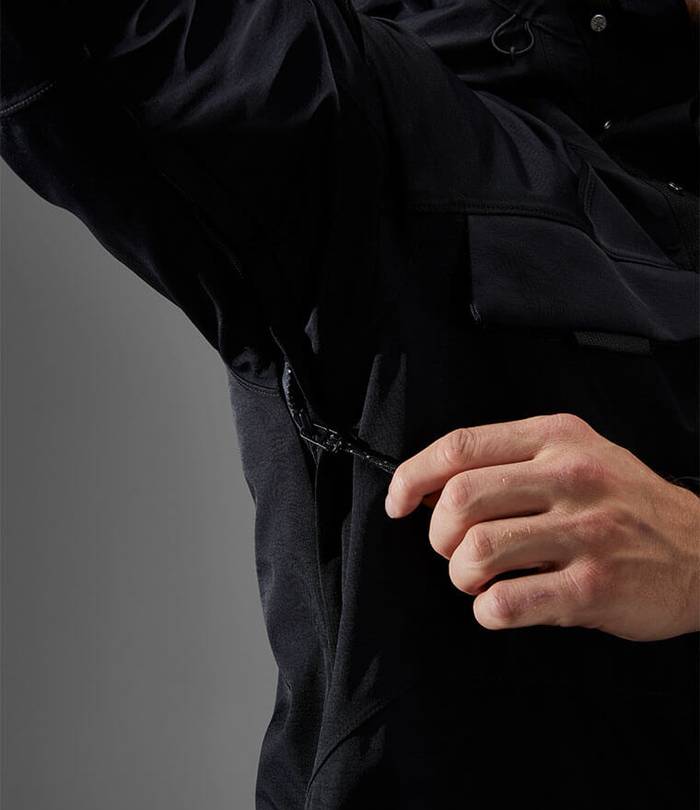 Pit Zips
Zips underneath the arms open to help regulate body temperature.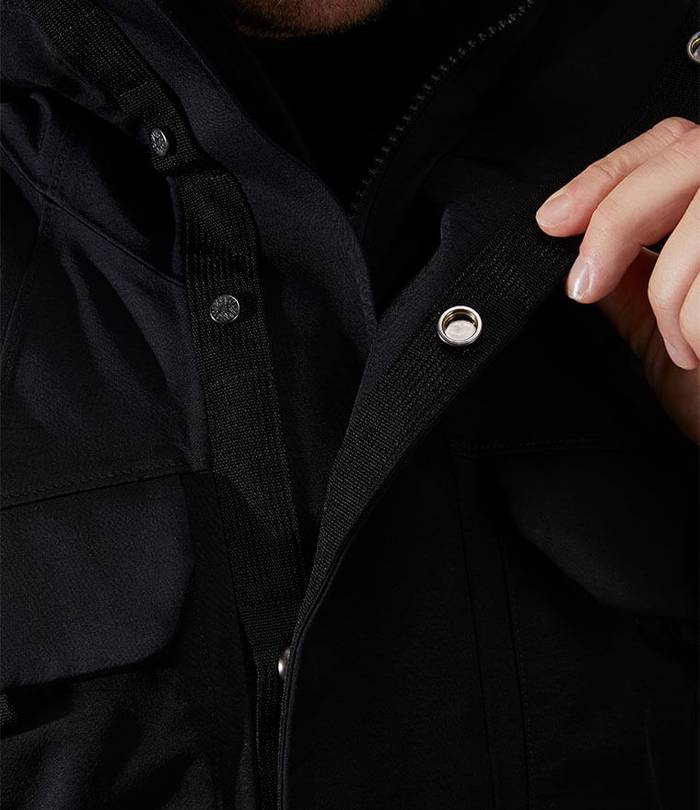 Snap Fastening on Grosgrain Webbing
Snaps have been applied to webbing for extra reinforcement and snaps are both easily opened and closed.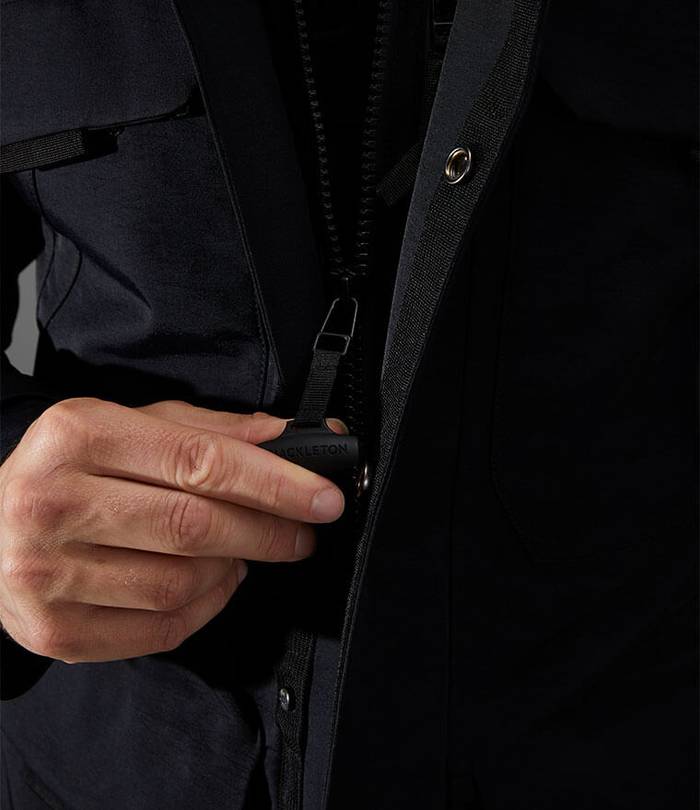 CENTRE FRONT ZIPPER
Large toggle enables easy use of two-way centre front YKK zipper.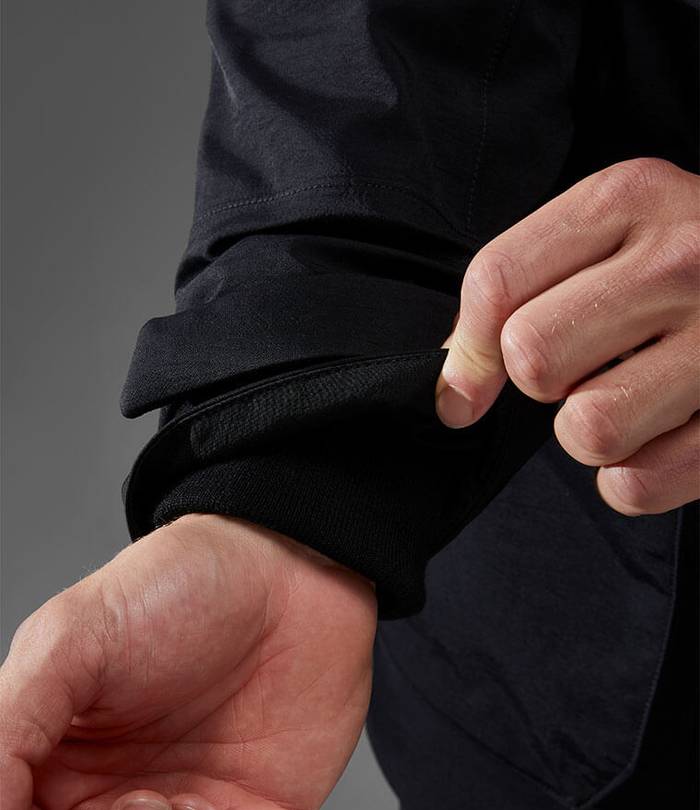 Merino Storm Cuff
Recessed storm cuffs provide protection from windchill and heat loss.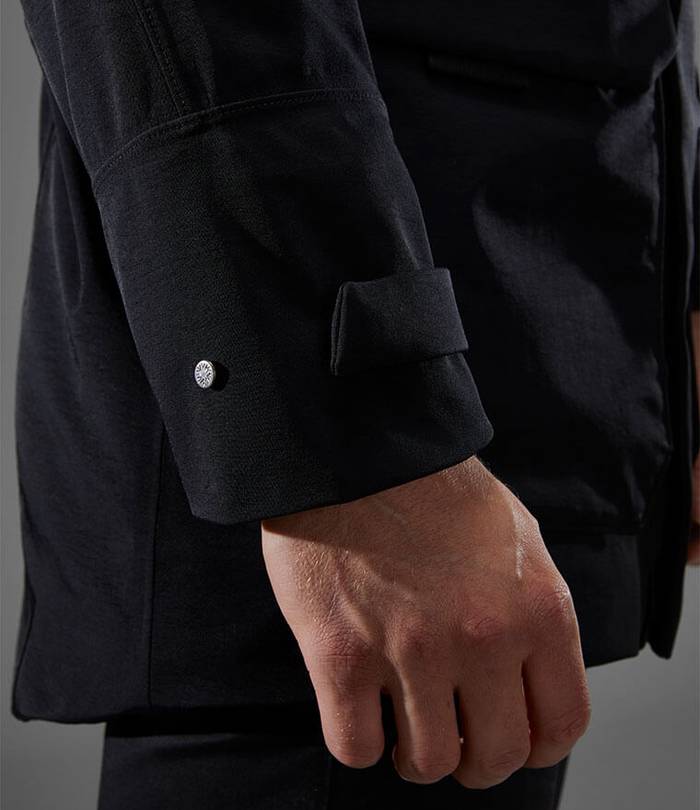 ERGONOMIC CUFFS & FASTENING
Sculpted cuffs protect the knuckles from rain, wind and snow, while the snap fastening allows for easy adjustment.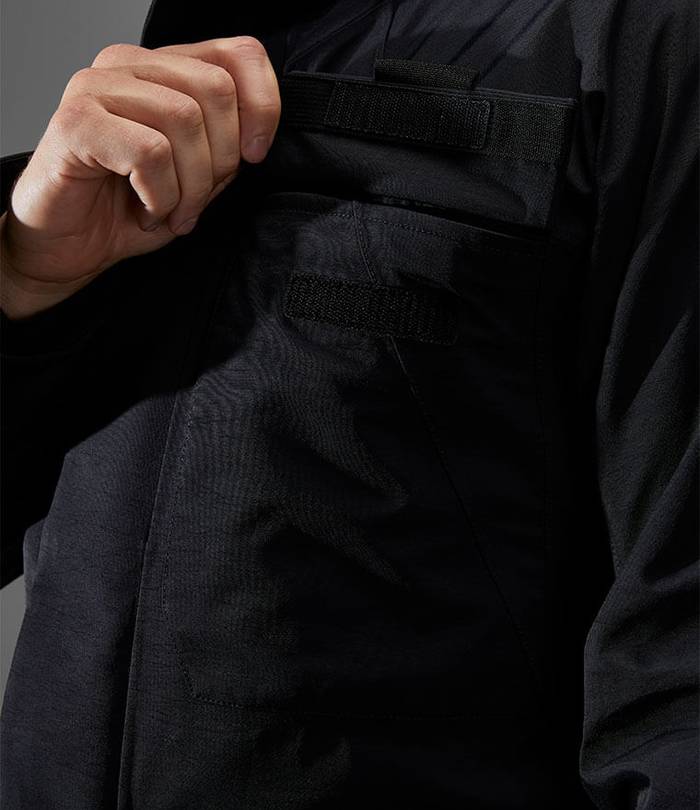 Top Entry Chest Pockets
Chest pockets with gusset for increased capacity.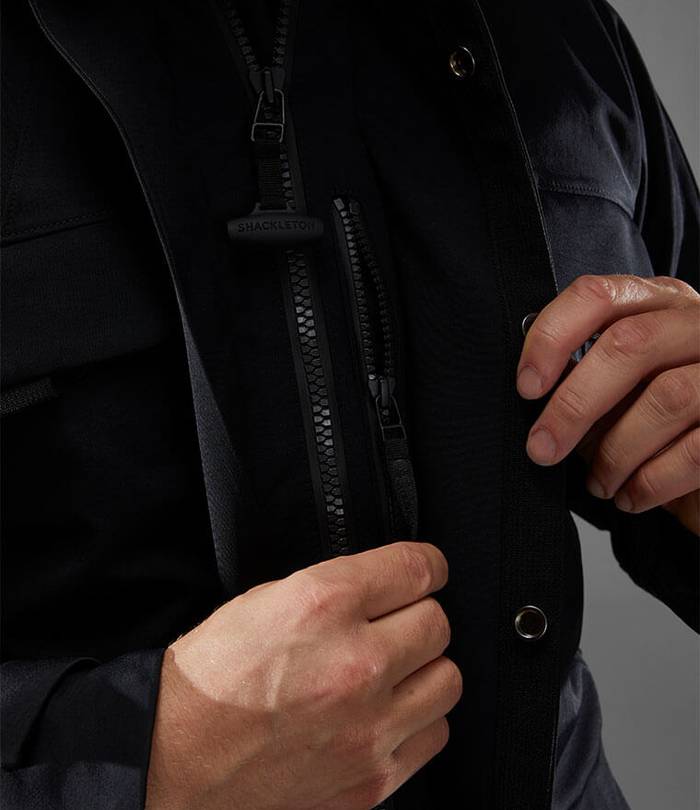 Placket Pocket
A zipped chest pocket that can be accessed without having to open the jacket, retaining essential heat while keeping items close to the body.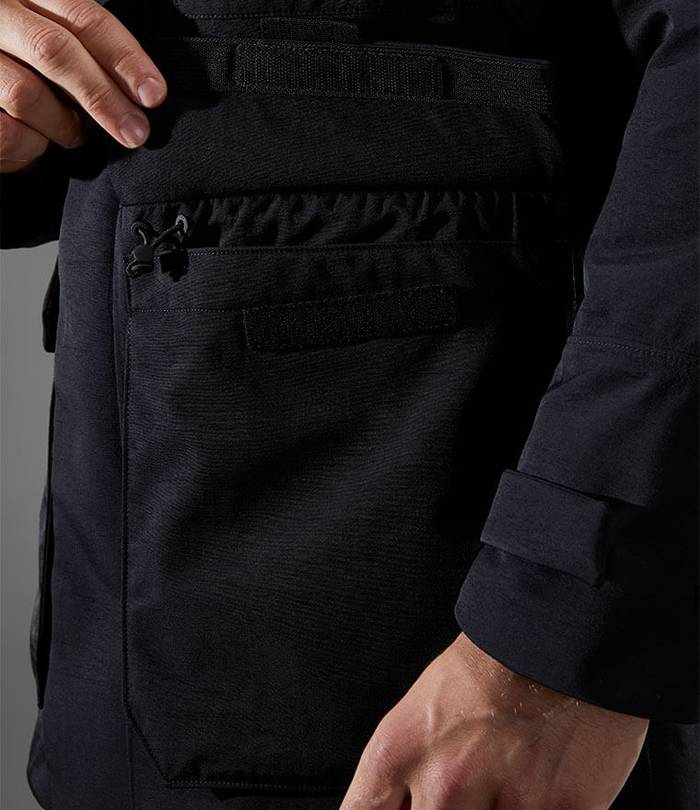 External Lower Patch Pockets
Large hip pockets feature a gusset for extra volume, and grosgrain grab tabs on pocket flaps ease pocket opening when wearing bulky gloves. They also have side zipper entry lined with microfleece for warm touch.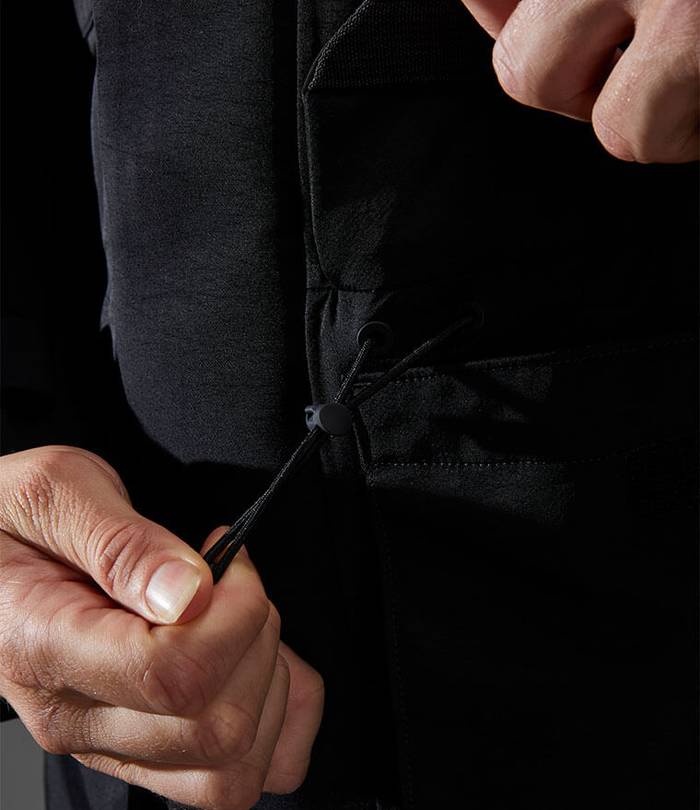 Hidden Waist Adjuster
Waist adjuster is hidden under the flap of the front pockets so that the garment can be cinched in at the waist without opening the jacket and losing body heat.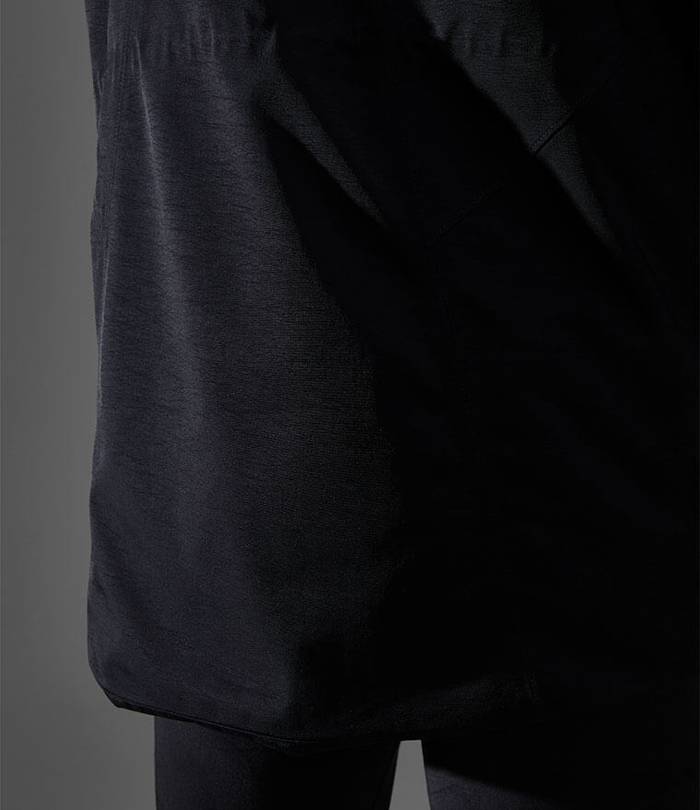 Lower Hem at Back
The lower hem at the back of the jacket increases coverage while still allowing full range of movement.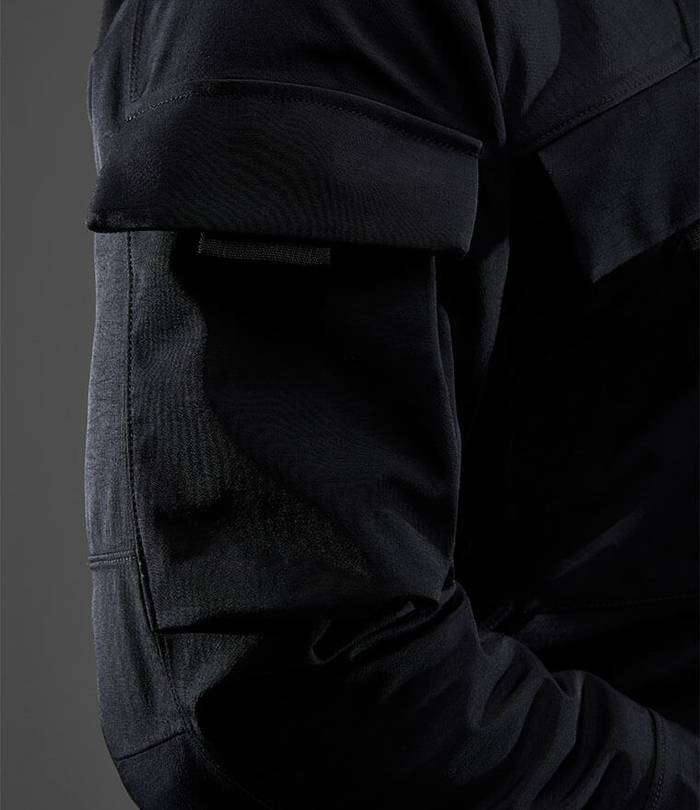 Sleeve Patch Pocket
Patch pocket on the right sleeve as worn.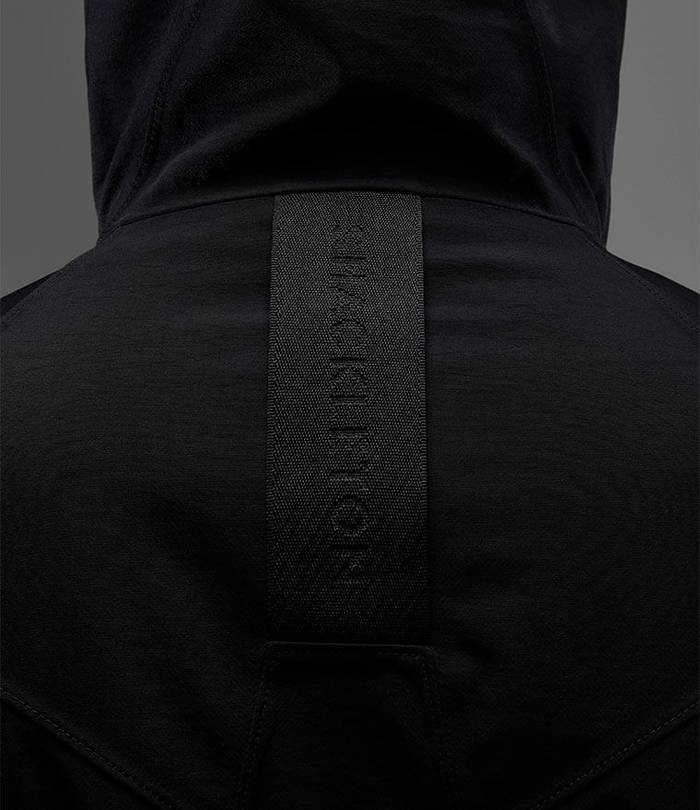 Crevasse Grab Handle
Our iconic crevasse grab handle features at the centre back yoke.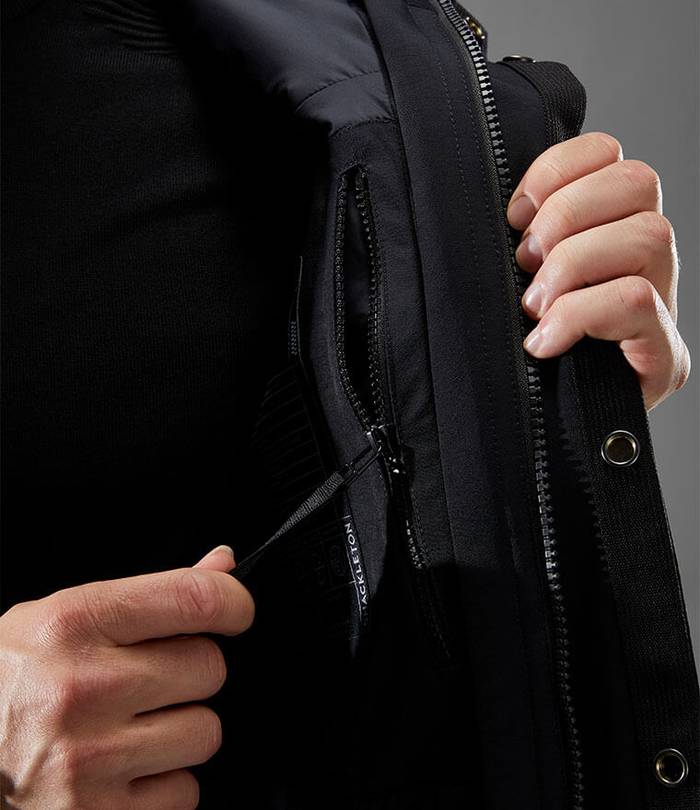 Internal Chest Zip Pocket
A zipped internal security pocket for securing valuable essentials, accessible by the wearer's right hand on the left side of the jacket.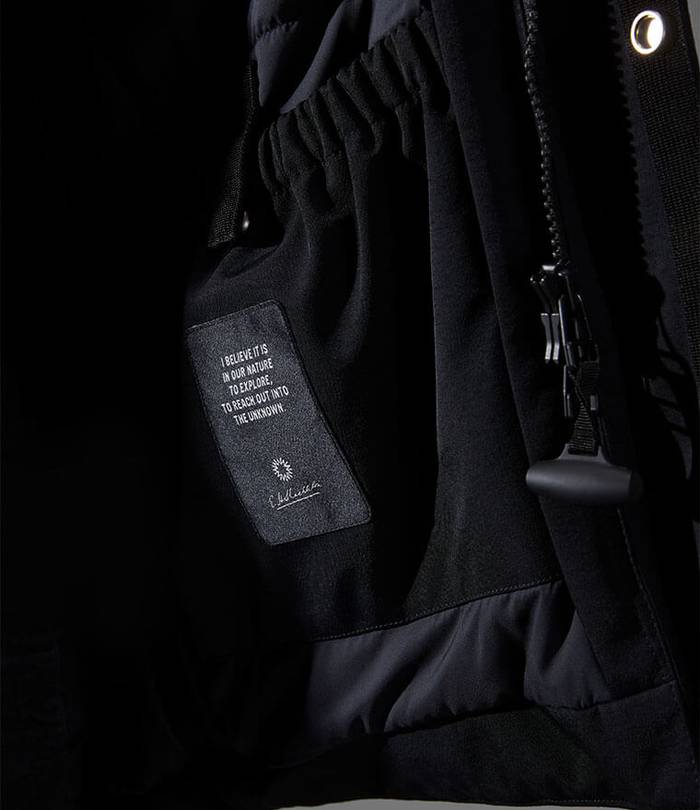 Large Internal Drop Pocket
Elasticated drop pocket with velcro fastening for hat and gloves.
Care Instructions:
Hand wash only
Do not bleach
Do not tumble dry
Do not dry clean
Do not iron